The challenge:
Launching 7 municipal space surveillance points

Developing video detection algorithms for the system considering citizens' safety improvement

Using video analytical algorithms to obtain information on the situation changing in the city

Vehicles and pedestrians traffic analysis in specially dangerous areas and verifying possibilities to use such information to improve road and pedestrian traffic safety

Ensuring security for the city property located within the suburban swimming area

Hidden lighting for selected areas

Launching the system ensuring effective notifications of potential or actual dangers to the city services
Solution:
7 IMVD were installed and put into operation on the street lights within the city
Video analysis criteria were agreed upon
Video detection algorithms were programmed
Operational procedures were developed
The system was launched in 24/7 mode
City services reporting procedures were implemented
The on-line preview for the operator of the traditional city monitoring system was made available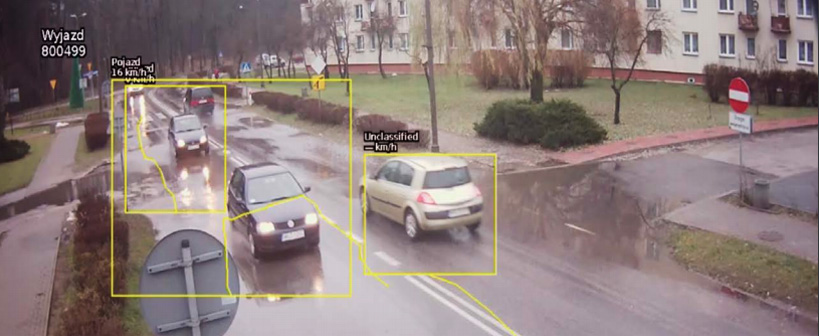 … Modern technologies allow us to ensure security for citizens which make them feel much safer. The old monitoring system, which we operate, is not effective nor efficient, that is why it does not allow us to respond quickly. In fact, we could only see the recorded events in files to make some kind of conclusions or to react. The system we operate now is modern and allows us to react quickly on-line. It allows us to automatically notify all services on the event, which increases services effectiveness. (…) the supplier is responsible for the system operation and servicing, which brings savings to the city.

Romuald Zawodnik

Mayor of Pionki
Advantages:
Increasing safety level

of the citizens and city property.

Improving the effectiveness of the work of the law enforcement offices in

the city.

Extending knowledge

of changes in the city

Outsourcing type of cooperation

guarantees the Client incurs

no costs of investment and maintenance of the system
24/7

participation of

the operators of the Operational Centre SOPHUS

in

the surveillance and analysis of municipal areas

Precise reports

which provide summary of all events

and results of video

analysis in the agreed time periods and in the format selected by the client

.

Decreasing costs

of municipal monitoring

by 75%.

Settlements in form of a subscription

comfortable for the City Hall
Summary:
Joint T-Mobile project executed in the city Pionki has proven a wide range of the SOPHUS possibilities. It has proven that SOPHUS can be an effective solution for the Smart City solutions which are also offered by T-Mobile.
A number of measurable advantages, system flexibility and a huge potential of video detection and video analysis have proven that the use of new technologies is the future in public spaces management.
The modern approach of SOPHUS to monitoring has shown a huge potential in intelligent systems that use modern technical solutions.